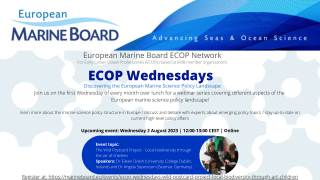 In this edition of the ECOP Wednesdays event series, hosted by the EMB Young Ambassadors and the EMB Secretariat for the EMB ECOP network, Dr Eileen Diskin (University College Dublin, Ireland) and Dr Angela Stevenson (Geomar, Germany) will talk about "The Wild Postcard Project - Local biodiversity through the art of children". The talk will be followed by an interactive Q&A discussion.
Many people have heard of the climate crisis, far fewer have heard about the biodiversity crisis that is coupled to it. We are heading towards Earth's sixth mass extinction. Rates of species loss are 10,000 times faster than in previous eras; global wildlife has decreased by 70% in the past 50 years. Low biodiversity literacy is exacerbating this crisis - Germany and Ireland are no exception. Through the analysis of biodiversity-themed artworks submitted to the Wild Postcard Project by approximately 10,000 children in Germany, Ireland, and abroad, we provide evidence that young people have a biased and simplistic awareness of biodiversity. E.g. They rarely depict plants, insects, and microbes even though they make up >98% of all biodiversity; and most focus on a singular animal or plant rather than more complex landscapes or ecosystems. In this interactive talk, Eileen and Angela will share insights learned from the children's artworks and accompanying entry forms, and discuss how the information gained can inform biodiversity education, resource management, and policies.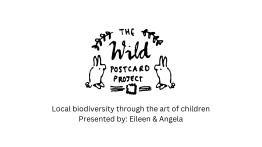 The Wild Postcard Project is a social enterprise that was founded in 2016 by Dr Eileen Diskin and Dr Angela Stevenson, both of whom have backgrounds in scientific research (having been awarded doctorates from the School of Natural Sciences at Trinity College Dublin, in Ireland). Eileen is now an Education Innovation Lead at the Innovation Academy of the University College Dublin, and Angela is a marine scientist at GEOMAR Centre for Ocean Research. Both research biodiversity, and how to better enhance and protect it. Eager to tap into their creative sides – and passionate about raising public awareness of biodiversity – they sat down in a pub one night and began brainstorming ideas. These ideas were lovingly transformed into the initiative that would spread to all corners of the globe. Knowing that bottom-up community-led efforts have proven to be one of the most successful approaches in protecting plants and animals globally, the Wild Postcard Project hopes to inspire people of all ages to engage with their own local biodiversity, and to shift perceptions and understanding of local biodiversity among children and citizens in order to address the lack of awareness that is contributing to the biodiversity crisis - ultimately bending the curve of biodiversity loss. 
You can re-watch the presentation on the EMB YouTube Channel and download the slides here.