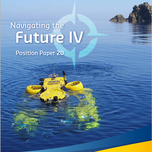 Background
Since 2001, when the first Navigating the Future position paper was published, the series has been widely recognized, both by researchers and science policymakers, as providing critical periodic foresight and recommendations on emerging marine science topics and needs, as well as associated societal challenges and opportunities.
The series receives wide praise as a comprehensive blueprint for seas and ocean research priorities. They are cited and used in scoping papers, reflection documents, strategy and advice documents, as well as scientific publications, and to inform funded work programmes. They are considered as key foresight reference documents for marine and maritime research priorities in Europe. Furthermore, they are cited as key references for national research policies.
Watch our 2021 video on the Navigating the Future series on the EMB YouTube Channel.
Navigating the Future VI
EMB began activities to develop Navigating the Future VI (NFVI) in 2022. A working group with representation from each of EMB's member organizations met for the first time at the kick-off meeting in Ostend, Belgium on 24-25 October 2022. The focus of NFVI will be the required marine science to help us in understanding wider Earth systems, with four main chapters covering Ocean and People, Ocean and Climate, Ocean and Fresh Water, and Ocean and Biodiversity.
You can find out more about this activity here.

Navigating the Future V

Navigating the Future V (NFV) gives a birds-eye big-picture view of marine science and looks into the future (2030 and beyond) to identify key topics/themes that are set to significantly advance our understanding of the marine and broader earth and climate systems. NFV provides robust, independent scientific advice and expert opinion and will be of increasing importance to societal wellbeing in decades to come.
Navigating the Future V was published on 11 June 2019 at EurOCEAN 2019.
Download the full document here and press release here.
Navigating the Future IV
Navigating the Future IV (NFIV) was designed to inform the Commission calls under the Horizon 2020 programme. The document was organized around the framework of key societal challenges in the areas of climate, human health, food security, energy and safe and sustainable use of marine space. NFIV also addressed strategic and enabling issues such as the European Ocean Observing System (EOOS), training, the science-policy interface and ocean literacy.
Navigating the Future IV (Marine Board Position Paper 20) was launched on 20 June 2013 in Brussels. Press release download

Navigating the Future III

Navigating the Future III (November 2006)
Navigating the Future II

Navigating the Future II (March 2003)
Navigating the Future I

Navigating the Future I (March 2001)