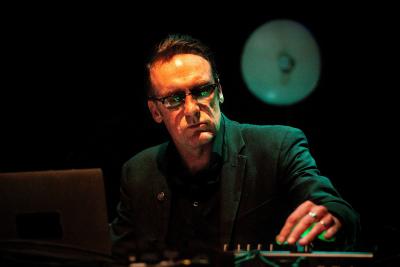 As an EMBracing the Ocean resident artist, Michael is turning his attention to the Southern Ocean and Antarctica. He is working with scientific collaborators Lukrecia Stulic from Alfred Wegener Institute for Polar and Marine Research (AWI, Germany), Yoshihiro Nakayama from Hokkaido University (Japan), and Thomas Rackow from the European Centre for Medium Range Weather Forecasts (UK). Starting from the observation that data is the common vocabulary of science and art, Michael is creating new works to explore the beauty, complexity and fragility of this vast and mysterious territory. The resulting works, through recordings, broadcast and performance will play an important role in engaging audiences with the mystery, to the science, and to the urgent need for personal action in responding to the climate crisis.
Antarctic compositions

Michael Begg has been working with his three scientific collaborators to develop new musical compositions based on various climate and oceanographic data from the Antarctic including thermocline data from the Pine Island Glacier, polynya modelling and salt fluxes.
Thermocline is a new piece of work focusing on the Pine Island Glacier ice shelf and the impact of the thermocline level on ice melt and sea-level rise. Thermocline depth data from Webber et al. 2017 is being used as a starting point to develop new musical works, beginning with using the data to inform the pitching of string instruments. A preliminary sound clip is available here.
Polynya is a new work developed with scientific collaborator Lukrecia who has shared model data on polynyas (areas of open water in sea ice) and their relationship to oceanic circulation beneath the Filchner-Ronne ice shelf bordering the Weddell sea of Antarctica. This data is based on one of her publications. Michael has developed the core software engine to import and scale the data (shown in the image above). You can listen to a sample sound clip made from the data here. 
Salt flux is a further work based on the role of salt fluxes in polynya cycles and thermocline depth, and you can find a preliminary sound clip here.
Michael is continuing to develop these musical pieces and the technology to create them, and the recordings will be released on all major music platforms in 2023. A preview of the work was performed by the Black Glass Ensemble group at the Edinburgh Fringe Festival in August 2022 as part of the Made in Scotland programme. 
Michael has been featured in a film by Creative Informatics on 'Data-driven innovation for sustainable creative practice', which was presented at the New European Bauhaus Festival in Brussels on 9th June. In the film, Michael discusses his creative practice in terms of its activism, its relation to climate science and its growing role in terms of bringing broader public attention to Ocean science through his EMBracing the Ocean residency. Michael talks about his residency in an interview with 'Fifteen Questions' and in a blog article here.
Black Sea compositions
Michael has been collaborating with EMBracing the Ocean resident artist, Lera Litvinova, to create sound works describing the impact of war on the fragile ecosystem of the Black Sea. Michael uses publicly available data, such as from the European Space Agency's Sentinel 3 Ocean monitoring satellite, and audit records of ships passing through the secure trade corridor. This work was broadcast in a special one hour edition of experimental music radio show, A Duck In A Tree on Saturday 17th December. Details on how to tune in can be found here.
Previous work
Throughout much of 2021 Michael was engaged by the Ocean ARTic Partnership comprising the Marine Alliance for Science and Technology for Scotland, People Ocean Planet, Creative Informatics and Blue Action EU to produce new musical compositions that would seek to draw science and art together and increase public engagement with marine climate science. Michael worked with scientists at AWI in Germany, the University of Edinburgh and the Scottish Association for Marine Science to produce a suite of recordings, Light Water Is Black Water. The work explored model data showing the impact of diminished sea ice on lower latitudes. It was performed with Black Glass in a live stream broadcast during COP26, and the work will make its live premiere in June 2022 at Edinburgh's Queen's Hall.
Action for Mission Restore our Ocean and Waters
This project is an action towards achieving the objectives of the European Commission's Mission Restore our Ocean and Waters, specifically contributing to the enabler "Public mobilisation and engagement".