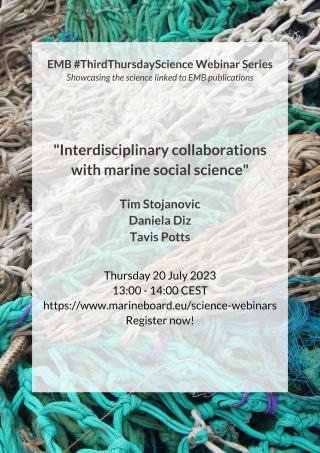 Interdisciplinary research is increasingly called for to solve global challenges and this webinar addressed how natural scientists can collaborate with social scientists to develop effective research projects. The webinar featured short talks from nine social scientists from the Marine Alliance for Science and Technology for Scotland (MASTS; Dr. Kay Barclay, Dr. Vincent Onyango, Dr. Remi Diaz, Dr. Meriwether Wilson, Prof. David Paterson, Prof. Beth Scott, Dr. Tim Stojanovic, Dr. Daniela Diz, Prof. Tavis Potts). They: (1) reviewed some of the lessons learned about the major challenges of doing interdisciplinary research; (2) introduced possibilities for natural scientists to partner with different social science disciplines; and (3) invited debate and discussion on productive approaches. This topic is linked to the science within the EMB flagship documents Navigating the Future V (2019) and the upcoming publications Coastal Resilience (October 2023) and Navigating the Future VI (Spring 2024). The following three speakers participated in a moderated Q&A session with the audience for the second half of the webinar:

Dr. Tim Stojanovic (University of St Andrews) is an environmental geographer (social scientist) with a special interest in coastal and marine management. He has played a role in teams conducting research on change in 28 European coastal areas, as part of the SPICOSA, IMCORE, COREPOINT, CBESS, and CO-OPT projects. 

Dr. Daniela Diz is an Associate Professor of International Ocean Governance at the Lyell Centre, Heriot-Watt University in the UK, and a member of the IUCN-Fisheries Expert Group. Daniela has over 20 years of experience in the field of environmental law and oceans governance. Her main research areas focus on the interface between the law of the sea and the international marine biodiversity law and policy, with a particular emphasis on the law-making and implementation of the ecosystem approach, area-based management tools and environmental assessments. She regularly participates as an expert at UN meetings related to the law of the sea, marine biodiversity and fisheries, and conducts policy and legal studies on these themes to UN agencies, government institutions and civil society.

Prof. Tavis Potts is Chair in Sustainable Development and Environmental Governance, co-coordinator of the Just Transition Lab and Dean for Sustainability at the University of Aberdeen. Professor Potts is interested in how people and place address sustainability, both in terms of social acceptance, norms and behaviours, social innovation and governance and politics. His research intersects with the challenges of enacting concepts of environmental and climate justice into daily life and into political and governance systems. His research over the past two decades explores topics such as coastal and marine governance, social attitudes to the environment, and just transitions in energy cities and natural capital. Having worked extensively in Scotland and the UK, North-East Europe, the Polar regions, and East Asia and Australia (his home country) he is actively involved in moving between science, policy and civil society and developing participatory initiatives for social inclusion and empowerment around Net Zero and the Sustainable Development Goals.
The webinar was recorded and is available to re-watch here.