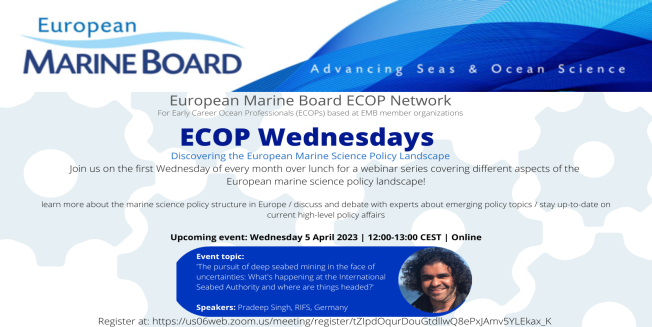 In this edition of the ECOP Wednesdays event series, hosted by the EMB Young Ambassadors and the EMB Secretariat for the EMB ECOP network, Pradeep Singh spoke about 'The pursuit of deep seabed mining in the face of uncertainties: What's happening at the International Seabed Authority and where are things headed?'. Minerals located in seabed areas beyond national jurisdiction, designated as the common heritage of humankind, are currently at the centre of attention as negotiations on regulations to facilitate exploitation activities are ongoing at the International Seabed Authority (ISA). Against the worrying backdrop of the invocation of the two-year rule by the Republic of Nauru and a looming deadline of July 2023 to complete the adoption of the regulations, this presentation highlighted the many uncertainties that currently exist in the pursuit of deep seabed mining and provide an update from the meeting of the Council of the ISA in March 2023.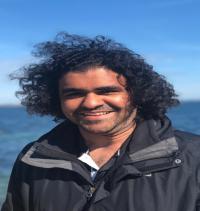 Pradeep Singh is a Fellow at the Research Institute for Sustainability, Helmholtz-Centre Potsdam (RIFS, formerly the Institute for Advanced Sustainability Studies or IASS). He is Deputy Chair of the Ocean Law Specialist Group of the IUCN World Commission on Environmental Law and Lead of the Commission on Ecosystem Management's Thematic Group on Deep Seabed Mining. Pradeep regularly attends multilateral ocean negotiations, including the meetings of the International Seabed Authority, and advises several governments and actors on deep seabed mining, ocean governance and marine biodiversity conservation in areas beyond national jurisdiction. He holds an LL.M. from Harvard Law School, an LL.M. in Global Environment and Climate Change Law from the University of Edinburgh, and an LL.B (First Class Honors) from the University of Malaya in his home country, Malaysia.
You can rewatch the presentation here and find the presentation slides here.
For any questions, please send an email to info@marineboard.eu