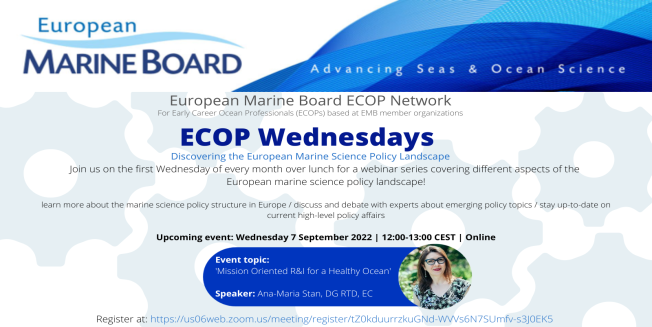 In this edition of the ECOP Wednesdays event series, hosted by the EMB Young Ambassadors and the EMB Secretariat for the EMB ECOP network, Ana-Maria Stan spoke about 'Mission Oriented R&I for a Healthy Ocean'.
Ana-Maria Stan is currently working as Policy officer for Healthy Oceans and Seas, in the Directorate General for Research and Innovation, European Commission, in Brussels. She has previously worked on a variety of education and culture policy topics, inside the Commission's Directorate general for Education and Culture. Prior to joining the European Commission in 2007, she worked with UNESCO in Paris, on Culture and development, with a focus on indigenous peoples affairs.
You can find the slides that Ana-Maria presented here.
For any questions, please send an email to info@marineboard.eu
This event has been submitted as an activity supporting the Mission Ocean.