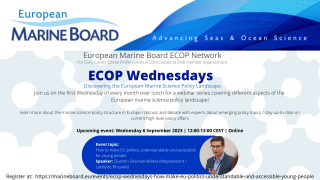 In this edition of the ECOP Wednesdays event series (on a Friday afternoon), hosted by the EMB Young Ambassadors and the EMB Secretariat for the EMB ECOP network, Quentin Deschandelliers, a lobbyist in Brussels and known under the alias 'Mepassistant', talked about how to make EU politics understandable and accessible for young people.
Quentin Deschandelliers is a former parliamentary assistant in the European Parliament and currently a lobbyist in Brussels. Since 2013 he is known on social media under the alias @Mepassistants, where he comments European politics and life in the European institutions with a mix of humour and analysis. He also manages a Twitch channel dedicated to explaining EU politics to young people, through interviews with politicians, journalists and other EU players, as well as through news reviews and various other content. Over the years he became one of the main influencers about the EU and an advocate of making EU politics more relatable and understandable for young people. As recognition for his initiatives, he was one of the recipients of the Jean Monnet Prize in 2021.
You can re-watch the presentation on the EMB YouTube Channel and download the presentation here.