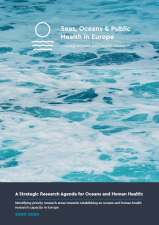 The SOPHIE Strategic Research Agenda (SRA) is a comprehensive overview of the required research and capacity to develop Oceans and Human Health in Europe. It sets out existing evidence that the health of seas, oceans and humans are inextricably linked. The Agenda outlines vital research priorities and collaborations needed to inform policies and practices to protect the health of both. Following two years of pan-European research, analysis and consultation, the Agenda identifies three priority areas:

1) Sustainable seafood and healthy people
2) Blue spaces, tourism, and well-being
3) Marine biodiversity, biotechnology and medicine
The SRA discusses the key research questions, capacity and training needs, policy implications and stakeholder requirements in order to develop European Oceans and Human Health research capacity.

The SRA was produced by the SOPHIE (Seas, Oceans and Public Health in Europe) project, funded by the European Union's Horizon 2020 research and innovation programme, grant agreement No 774567. You can find out more about our involvement here.
You can download the SRA here and find a toolkit for communicating the SRA, in a range of European languages, here. You can find a news item on this publication here, more about our role in SOPHIE here, and find out more about our work in Oceans and Human Health here.