8th EMB Forum Proceedings
The 8th EMB Forum took place in Brussels and online on 1 December 2021, and was on the topic of "Supporting the Ocean Decade in Europe". Over 100 participants from Europe and further afield engaged both online and in person, representing academia, early career researchers, policy-makers, industry, and NGOs. This document is a summary of the discussions, and full recordings of the sessions are available on the EMB YouTube Channel.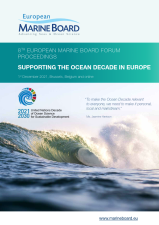 You can find out more about the EMB Forum events here.