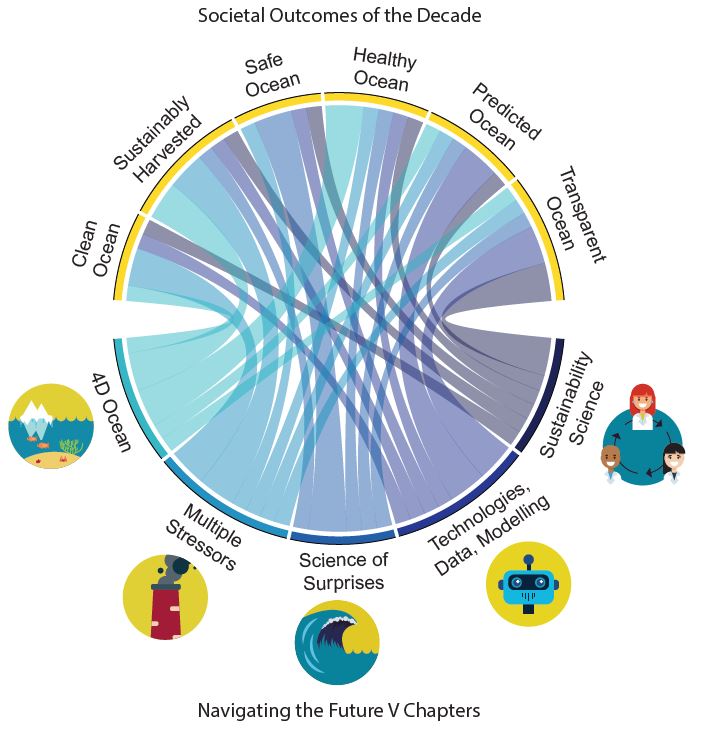 2021 marks the start of the Ocean Decade providing an opportunity for scientists, policy makers, industry and the public to come together to ensure that society continues to benefit from ocean resources, while simultaneously improving its ecological health to ensure long-term sustainability. Six societal outcomes have been outlined for the Ocean Decade and the EMB Policy Brief provides recommendations from its Position Paper 'Navigating the Future V' (NFV), authored by leading European marine scientists, on the science needed to achieve these goals. NFV recommends a holistic, solutions-oriented marine research agenda that should be co-designed with all stakeholders and with sustainability at its core.
To achieve a clean ocean the cumulative effects and interactions between multiple pollutants should be determined including atmospheric CO2, agricultural run-off, untreated wastewater, invasive marine species and plastic pollution. A safe ocean requires that we are able to anticipate ocean hazards such as storm surges, marine heat waves, meteotsunamis, submarine earthquakes, landslides, and volcanic eruptions and their associated tsunamis. We must improve understanding of their triggers and impacts including how they are influenced by climate change.
A healthy and resilient ocean is necessary to support a sustainable blue economy. A comprehensive overview of marine biodiversity functioning and its economic and societal value is required. NFV recommends the development of an interdisciplinary research program on ocean connectivity that focuses on the links between the physical, chemical, biological, and geological ocean with humanity. Ocean governance should be guided by the four-dimensional structure and function of marine ecosystems. A sustainably harvested ocean is one in which safe and sustainable thresholds are determined within which ocean industries can operate e.g. fisheries, aquaculture, biotechnology, and energy. Resilience strategies, trade-offs and ethics should be integrated into decision support frameworks.
A predicted ocean will enable better management of marine ecosystems, sustainable harvesting, climate forecasting, and the prediction of ocean hazards. Improved ocean observations and data sharing are needed, as well as development of the Ocean Internet of Things, Artificial Intelligence, and cloud computing. Data should be fed into interdisciplinary models to create early-warning systems for multiple-stressors, tipping points and ocean hazards. A transparent ocean will deliver ocean data and information to all stakeholders to enable informed decisions. NFV recommends the development of a virtual reality ocean platform where data is available and processed in real-time.
Download the policy brief here.