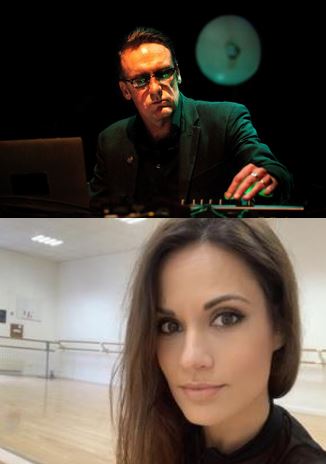 To support the Ocean Decade's societal challenge of an inspiring and engaging Ocean, the European Marine Board established it's artist-in-residence programme, "EMBracing the Ocean" in early 2022. The programme is endorsed as an Ocean Decade activity, and provides €10,000 to artists to produce and disseminate new art works in any discipline through a two-way co-design process with Ocean scientists. An international call for artists was launched in January 2022. The Secretariat received over 70 applications from a variety of artistic disciplines; 30 countries; a variety of genders (47% female, 40% male, 4% non-binary, 10% not specified) and aged between 10 and 72. The EMBracing the Ocean committee have now selected two artists, Micheal Begg and Emily Lartillot, who will begin their 12-month residencies in spring 2022.
Michael Begg is currently Associate Artist in Residence at the Queen's Hall, Edinburgh, and is the Musical Director of the Black Glass Ensemble. As an EMBracing the Ocean resident artist, Michael, along with researchers based at Alfred Wegener Instutite (AWI, Germany), Hokkaido University, Japan, and the European Centre for Medium Range Weather Forecasts, will be turning his attention to the Southern Ocean and Antarctica. Starting from the observation that data is the common vocabulary of science and art, Michael will create new works to explore the beauty, complexity and fragility of this vast and mysterious territory. The resulting works, through recordings, broadcast and performance will play an important role in engaging audiences with the mystery, to the science, and to the urgent need for personal action in responding to climate crises.
Michael's previous work involved engagement throughout much of 2021 with the Ocean ARTic Partnership comprising the Marine Alliance for Science and Technology for Scotland (MASTS), People Ocean Planet, Creative Informatics and Blue Action EU to produce new musical compositions that would seek to draw science and art together and increase public engagement with marine climate science. Michael worked with scientists at AWI, the University of Edinburgh and the Scottish Association for Marine Science (SAMS) to produce a suite of recordings, Light Water Is Black Water. The work explored model data showing the impact of diminished sea ice on lower latitudes. It was performed with Black Glass Ensemble in a live stream broadcast during COP26, and the work will make its live premiere in June 2022 at Edinburgh's Queen's Hall.
Emily Lartillot's SFAC dance company brings together young dancers aged 7 to 17, trained by Les Arts Scène dance academy in Montpellier, France, to create and present dance performances about the environment and biodiversity in close collaboration with scientists. For the EMBracing the Ocean residency, Emily will work together with Yunne-Jai Shin (Senior Scientist at the French National Research Institute for Sustainable Development, IRD) to develop new choreography with youth dancers focused on mangroves as major social-economic systems for biodiversity conservation and climate change mitigation and adaptation. The choreography will be built on scientific knowledge of these important ecosystems, and in collaboration with additional scientific experts. The choreography is planned to be performed at the 7th edition of the University of the Earth on 25 – 26 November 2022 at UNESCO in Paris, France, and further opportunities for dissemination and video creation will be sought during the residency. The work aims to raise children's awareness and understanding of environmental issues as early as possible. Additionally, children have strong emotional power and are thus potent messengers to adults.
Emily and Yunne have worked previously together to develop the choreography 'Steps for Change', which focused on biodiversity and was performed by the youth dance company at the opening session of the 7th IPBES Plenary in 2019, and the 52nd session of the IPCC Plenary in 2020. The performances were a huge success among delegates, and also resulted in a short documentary film on the creative process and a film of the performance premiere which were also broadcast at science festivals.
Keep an eye on our EMBracing the Ocean webpage and subscribe to the EMB Ocean Decade newsletter to receive updates on Michael and Emily's activities over the coming year.