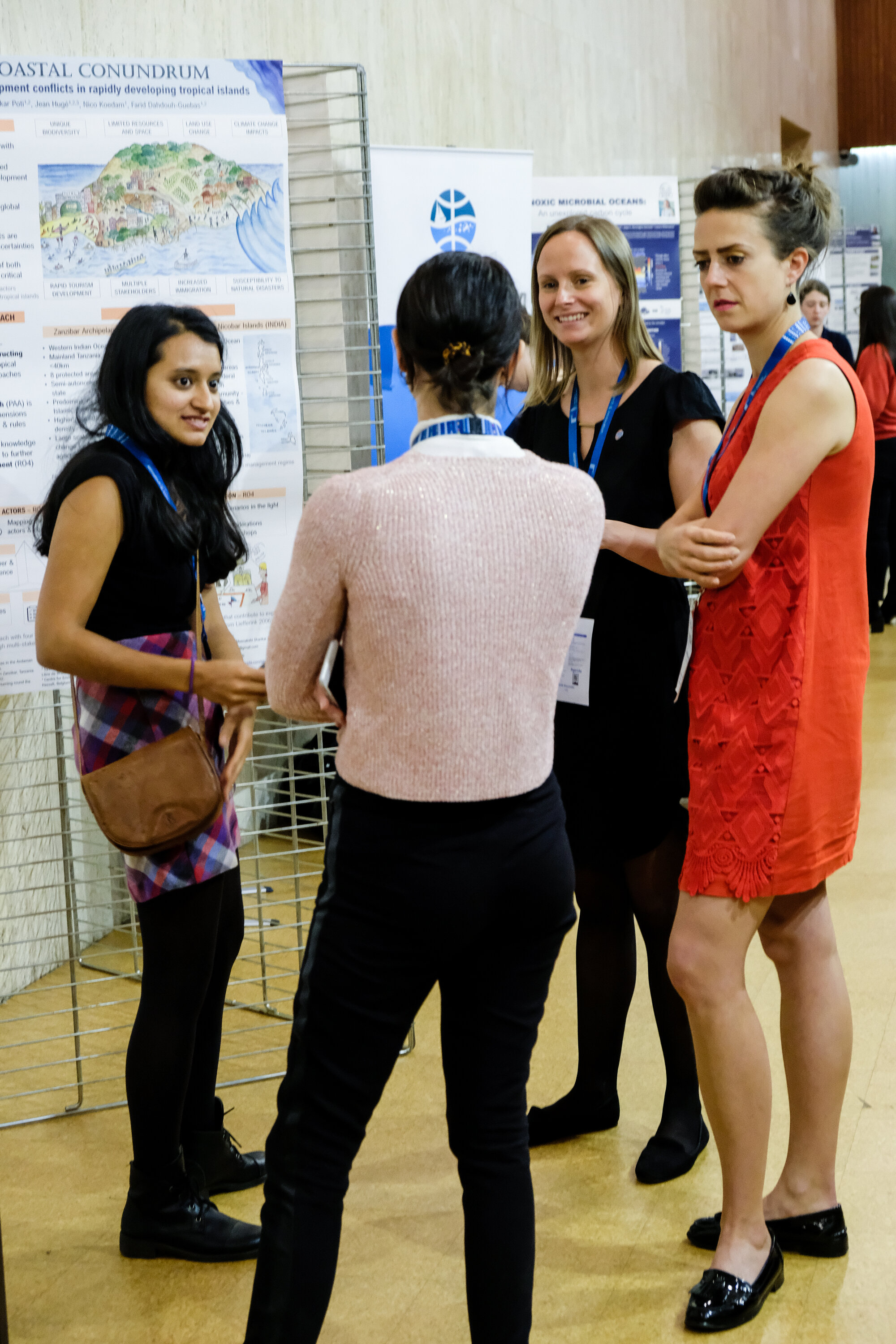 Early Career Ocean Professionals (ECOPs) are young Ocean researchers and strong advocates of the Ocean's future. They are diverse, each having their own innovative ideas and perspectives. To reach the ambitious goal of a sustainable Ocean, ECOPs are needed more than ever. They bring spotlight on the importance of the future climate scenarios, advocate for marine conservation and jointly design the solutions to tackle the challenges facing our planet and Ocean. They will also become the Ocean leaders of tomorrow.
The European Marine Board (EMB) proposes to boost ECOPs' engagement  in these issues by helping them to better understand the European science policy landscape, i.e. by bridging the gap between ECOPs and policymakers. This approach is vital to understand the complex policy dimension of the marine environment in Europe and thereby help ECOPs to conduct and implement policy relevant science and ocean action. The EMB intends to link ECOPs with the policy landscape by creating a unique pan-European network of young marine researchers and enthusiasts who are employed by, or linked to, EMB member organizations.
Why?
Through the network we want to strengthen communication between ECOPs in Europe, especially those within EMB member organizations, and connect them with policymakers and ocean leaders in the European Union. In a nutshell, the network wants to give ECOPs a voice and to help them understand how they can engage in and influence policy. This network will help ECOPs to position themselves as thoughtful and trusted leaders of tomorrow. There may also be opportunities for the EMB ECOPs to link to other existing ECOP and Ocean Ambassador networks in Europe (such as the ICYMARE conferences, EuroMarine OYSTER network, the All-Atlantic Ocean Youth Ambassadors, the Baltic Sea Youth Platform, and the Black Sea Ambassadors) and beyond to create a truly holistic network.
Objectives
Provide accessible opportunities for ECOPs to better understand the European policy landscape
Create opportunities for ECOPs to have meaningful engagements with policymakers and ocean leaders
Provide updates on what is going on in the world of marine policy and ocean science
Connect with other ECOPs to share ideas and co-create ocean action inititaives and events
How?
By (i) helping ECOPs understand the European science policy landscape e.g. via case studies, peer-group discussions, seminars and workshops; (ii) connecting ECOPs with each other and with the policymakers involved in EU's marine policies and regulations (i.e. networking events).
Who?
You, the young ECOPs of course! ECOPs are defined as "individuals who are within 10 years of their last professional degree and/or self-identified as ECOPs".
Interested to get involved? Then please complete this short anonymous survey to help us understand your interest in this network. The survey will be open until 30 November 2021, and based on the responses, more information about this network will be shared in early 2022.