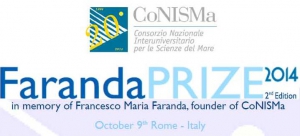 European Marine Board and CoNISMa are calling for expert nominations to form the Evaluation Panel of the Faranda Prize 2014 - a biennial competition for outstanding but still unpublished contributions in the field of fundamental and applied marine sciences. Experts will evaluate 34 proposals with the following key words: 
trophic ecology - marine food webs, plankton / benthos ecology;
acidification - functional ecology - geochemistry - climate change;
spatial distribution marine populations - marine bioinvasions - biodiversity (integrative taxonomy) - population genetics - fishery biology;
biochemistry / reproductive and developmental biology / ecotoxicology - chemical ecology - biofouling;
marine protected areas - spatial planning - ecosystem services - integrated coastal zone management - environmental science and policy - habitat mapping, impact assessment; 
marine geology.
The Evaluation Panel will work remotely and meet only once to select the main winner, on 09 October 2014 (from 14:00), straight after the EurOCEAN 2014 conference. Travel and hotel to attend EurOCEAN 2014 and Faranda Prize meeting will be covered by the Faranda Prize and the EurOCEAN 2014 participant fees waived for the experts.
Further information is available on the EurOCEAN 2014 and on the CoNISMa websites and via an email to  . Deadline for expert nominations is 15 August 2014.