On Friday 25 August 2017, P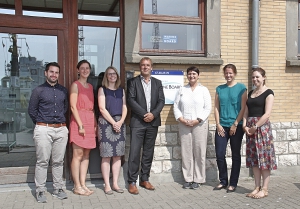 rof. Sheila Heymans officially accepted the post of European Marine Board Executive Director. 
Prof. Heymans is currently Head of Science at the Scottish Association for Marine Science (SAMS) where her current research focus is the social, economic and ecological impacts of fishing in the world's ocean. She has over 20 years' experience in scientific research and education, with a focus on utilizing ecosystem modelling approaches to study environmental impacts of fisheries and ecosystem change. She has published more than 50 peer-reviewed publications and was a lead author on the IPBES chapter on policy support tools for modelling scenarios. Prof. Heymans is already actively involved in EMB activities, most notably as co-Chair of the running Working Group on Marine Ecosystem Modelling.
Prof. Heymans visited the EMB ivzw offices in Oostende on Friday 25 August to meet the EMB Secretariat team and to sign her contract. She will officially take up her post as Executive Director of the European Marine Board ivzw on 10 January 2018. In the intervening period, the EMB Secretariat will be overseen by Senior Science Officer Kate Larkin.